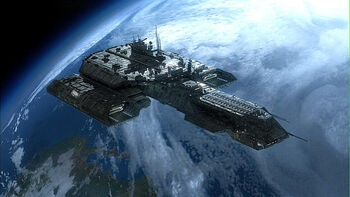 The X-304 is the third spaceship designed by the
Tau'ri
. It is built as a battleship/carrier with
Asgard
upgrades giving it the majority of its power base.
Daedalus(captured)
Odyssey(captured)
Korolev(destroyed)
Apollo(captured)
Phoenix
Sun Tzu(destroyed)
Kerensky
Icarus
Revere
Washington
Jefferson
Franklin
Madison
Lantean 304s
Edit
The three Tau'ri ships that attempted to retake Atlantis were captured and refitted with Alterran technology, making them the most powerful of all 304s in existence. To date they have been used by Lantean personnel on non-combat heavy missions, mostly reconnaissance and transport, but their armament is considerable should they be called upon for fire support.
Modifications to the ships include a full overhaul of all computer systems, life support, engines, support systems, power source, and hangar bays. Basically the Alterra kept the frame and rebuilt the rest of the ship.
Glass viewport replaced with heavy armor bulkheads. Viewscreen installed to give appearance of 'window.'
Navigational board replaced with ring-like holographic console.
Conventional missile tubes removed. Ships no longer carry this armament.
Tubes replaced with racks for Alterran drones. Can carry 24 when tightly packed.
Asgard Beams
Edit
Retained, but redistributed at different points on the hull for maximum coverage.
One aft, over engines(covers aft and dorsal arcs)
Two on hangar bay corners(port/starboard)(covers lateral and forward arcs)
One on prow(covers fore arc)
Horizon Weapons System(bombay)
Edit
Hangar Bays
Edit
Decreased in size by 75%.
Extra volume now houses additional interior space as well as ammunition for the linear mass accelerator.
No longer carries fighters, however, can still fit a handful in remaining space if need be.
Power Source
Edit
Naquada Reactor removed.
Replaced with four small Tachyon Generators. Increases available power by 4000%.
Within the Tau'ri, the United States of America is the sole producer of the 304 design, given that nation's superior industrial base. All 304s have been built by the US, then sold/traded to other nations, though currently both Russia and China are in the process of upgrading their small scale shipyards in order to be able to produce ships of this size.
Phoenix
Icarus
Revere
Washington
Franklin
Jefferson
Madison
Odyssey(captured)
Daedalus(captured)
Apollo(captured)
Other 304s
Edit
Russia and China both purchased a single 304 from the United States, and the United Kingdom was in the process of doing so when the fallout over the stargate transfer arose. That ship was later finished and kept by the US (Revere), however one ship remains in non-US Tau'ri hands.
Korolev[Russia] (destroyed)
Sun Tzu[China] (destroyed)